3 March, 2016
At the upcoming Aircraft Interiors Expo (AIX) 2016 in Hamburg, Germany, Phitek Systems will debut two new innovative solutions to airline and passenger IFE market drivers at its stand: Hall B4, 4C11.
Streaming high quality IFE content to passenger devices just got easier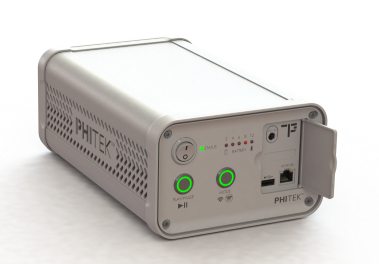 Airlines understand that passengers want it all – they want high quality media without dark shadowing or poor image quality, they want uninterrupted IFE without having to shift seats because their seat system has broken, and they want to use their tablet because they just bought it and it's the latest technology and that's why they put it in their carry-on luggage on their trip to Paris.
Phitek understands passengers as well as they understand what airlines are seeking. Airlines want to deliver an excellent passenger IFE experience at the same time as generating some revenue, and they would like to tell their airline story through an interactive and adaptable experience rather than just the magazine in the pocket of the seat – all through an easy to install and operate technology solution.
Driven by these market insights, Phitek has developed and will be debuting at AIX, a wireless content delivery solution with the following features:
– Compact on-board hardware with inbuilt redundancy preventing plane-wide IFE outages
– Battery operated significantly reducing the requirement for aircraft modifications
– High quality media streaming to passenger's personal electronic devices.
– Adaptable platform for:
o Movies and TV shows
o Digital newspapers or airline magazines
o Games
o On-board shopping
o Advertising
o Airline brand presence
Phitek's offer can be a wrap-around solution including hardware, entertainment content, airport logistics for loading and unloading of content and battery charging.
One size doesn't fit all: fitting clever audio and power components to airline seats no matter what the seat cutout
There are as many variations of connector configurations as there are airlines wanting to offer a personalised service to their passengers. Whether it's audio that can handle all different types of headphone plugs – including those that passengers bring with them – or a way to charge the passenger's laptop, tablet or smart phone – there are as many variations of requirements for seat cutouts, functionality, pin configurations, and IFE systems. This can present a lengthy and costly challenge for airlines retrofitting their aircraft cabins, often across a variety of legacy craft, to provide new passenger services and stay up-to-date with technology changes.
Recognising that one-size does not fit all airlines or even within a single airline – Phitek's "mix and match" solution allows an airline to choose variations of function and form with minimal upfront investment and a fast lead time to delivery. Starting with the most common cutout shapes, the obround, square, and triangle; Phitek has devised a method to provide jacks with any combination of audio and power to suit airlines' needs. Audio can be delivered through the traditional ARINC pin configurations, or through the innovative and patented Phitek magnetic connector to eliminate pin breakage and USB power can be provided on a separate jack, or in the same jack as the audio. We're not just talking about ordinary audio – as Phitek is the industry leader in active noise cancelling technology, this functionality can also be embedded into any Phitek jack providing passengers with an immersive audio experience. Other embedded features could include headphone power, A1 pin switching, and auto-pause.
These new technology solutions will be displayed alongside Phitek's premium headphones and patented magnetic connectors at AIX Hall B4, stand 4C11 in Hamburg, Germany, 5 – 7 April, 2016.